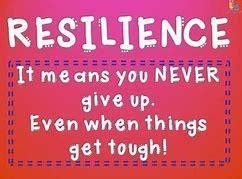 Strategies to Build Resilience
---
Strategies to Build Resilience
BMS motto 'Aspire to Achieve' has at its foundation, the idea of resilience. Indeed, as a community, we work hard to develop students who can embrace the challenge and emotionally cope with them to continue learning and progress both their knowledge and skills. For instance, getting students used to being challenged is one of the most important things we do at BMS and really proves to students that we have high expectations of them all.
Similarly, explicitly sharing with students that we know the remote learning being set is difficult for them to do encourages them to problem-solve and understand that a high level of effort is required to be successful. One relatively easy strategy that can be transferred from the classroom to the home is to chunk the task into smaller achievable goals that students can tick off as they go.
A second successful strategy to build resilience in learning used at BMS is questioning and discussion around the topic being studied. Indeed, effective questioning is a non-negotiable of our stretch and challenge provision. A well-structured question can reveal a student's thinking as well as set off other questions in the student's mind and is something that parents/carers can engage with at home during this time of remote learning.
Examples could be asking your child to summarise the learning they have completed in three sentences, giving a counter-argument to what they have been reading or asking what part of the information do they think is most important and why. As such building resilience by asking them to clarify their thinking, challenge assumptions, and build arguments.
Finally, as teachers at BMS continue to reward students with R points just noticing and commenting on the positive qualities that students demonstrate can nurture these behaviours such as empathy. Qualities that are central to building positive relationships on a wider scale outside the home. Importantly, building resilience in our students is made effective through the partnership between BMS and parents/carers and is a life-long learning process where mastering it takes effort and engagement with the wider community be it in person or remotely.