Halloween at Aldenham Country Park
---
Halloween at Aldenham Country Park
Some of our students have started attending a new work related learning course at Aldenham Park every Wednesday. Here they work with farm animals and other livestock, mucking out, grooming, feeding etc.
This type of vocational course not only teaches our students new skills which they may use later in life but is also a great type of therapy for mental, physical, social and emotional issues. It can improve self-esteem, confidence, helps reduce anxiety and can also help with behaviour issues as well as keeping you fit and being fun.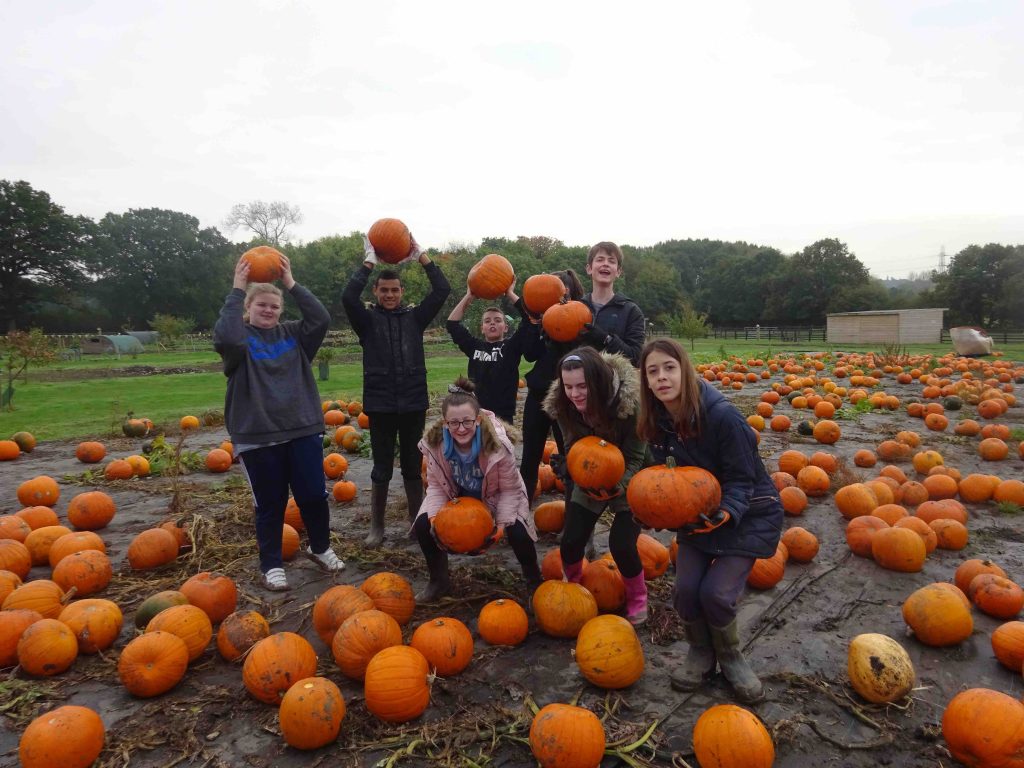 At this autumnal time of year our teacher Toni had planned a little treat for our students as it was nearly Halloween. So as well as doing our usual jobs, our students enjoyed pumpkin carving, a ghost ride and a visit to Farmer Jack's Spook Shack.
I thought I would share a few comments of what our students thought of their surprise.
It was fun knowing that the staff said that we could go for a ride in their new tractor. The ride was fun and very slow. One reason it was really fun was because the scary witch was allowed to come with us. She didn't really make it scary but she was still really fun. When we were half way through the fun ride there were some little dolls looking a bit like scarecrows. Every time we went past one, the witch named them all with strange names eg Crutchet!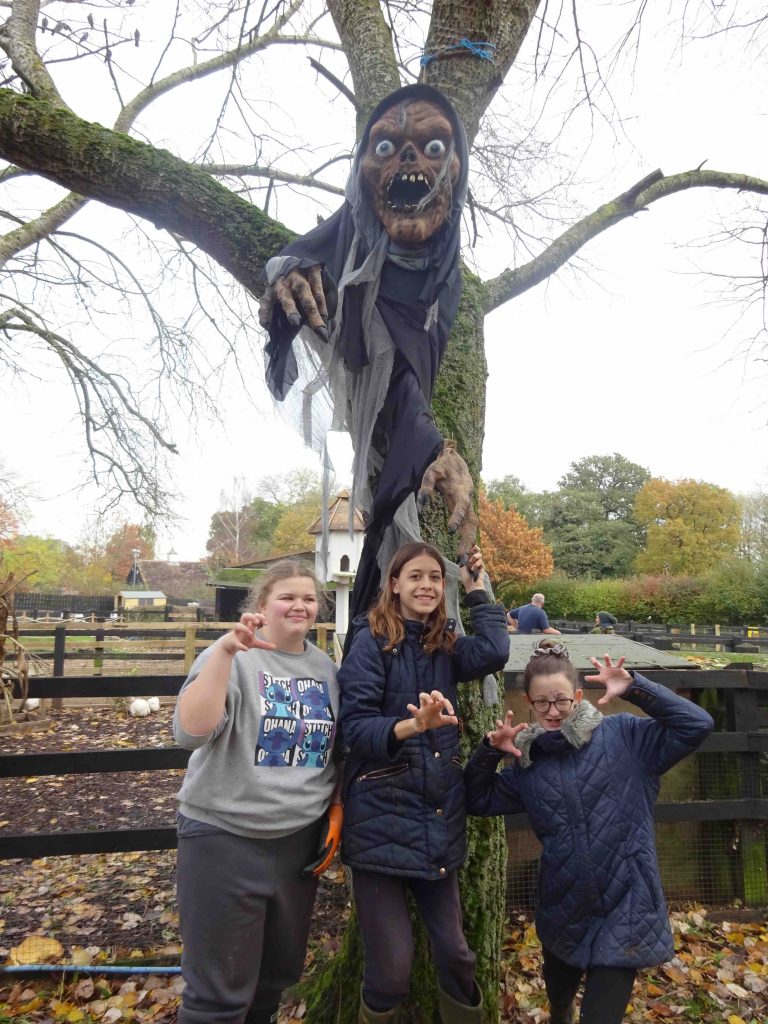 Before lunch we chose our pumpkins to carve. I chose the biggest one that I could find. The one that I found was very dirty and had mud all over it. We all had a group photo with our pumpkins and I nearly fell into the mucky mud!
When we had our lunch it was time to carve our pumpkins. I was really excited to carve mine because I had a good idea on what I was going to do with it. I decided to make my pumpkin saying 'Happy Halloween' It turned out looking great. When I had finished carving my pumpkin, luckily it turned out how I wanted it to be. We had such a great time.
By Lacey
I really liked our day at Aldenham on the last Wednesday of the half term. I am going to say that the ride on the ghost train was very nice. This is because just before we got on the train, there was someone dressed as a witch. The women looked very nice and scary in the witch's costume. When we got on the ghost train I really loved the Halloween music. It was enough to fit about 10 people, which was enough to fit us on and the person in the witches costume. When we went around the field I liked the scarecrows who were dressed in Halloween costumes. Overall I would say that the Halloween train was fantastic, especially looking at the pumpkins, which were in the middle of the field.
By Jake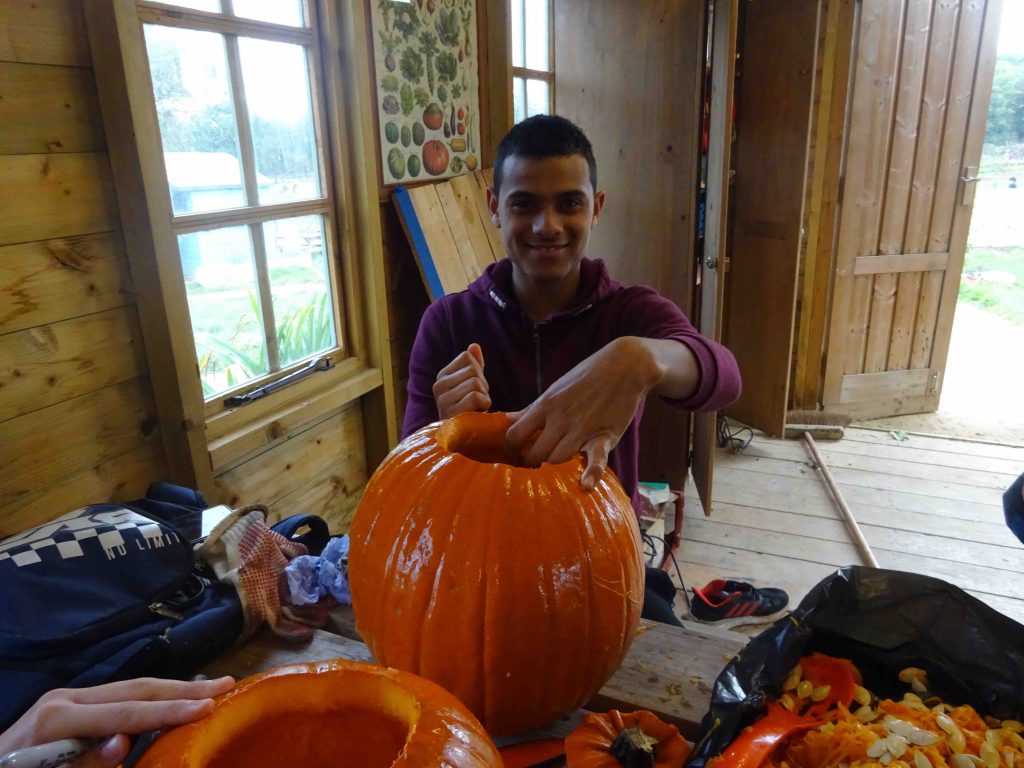 When we went to the farm I collected a really big fat pumpkin. It was so big that when I was carrying it I had to keep putting it down. I carved my pumpkin in the shape of Shrek. I made the big ears on my pumpkin by cutting a hole in the sides and putting paper cups in them. Aldenham Park is the best place to visit and I had so much fun.
By Ishmael
Just before half term we carved pumpkins. I chose a giant heavy pumpkin and I couldn't hardly lift it. I carved the spoon on it from the film Night before Christmas which turned out ok. My mum was very proud of me. 
We also went on a tractor ride which was called the ghost train. It was decorated in cobwebs and there was a witch sitting on it. Amie was scared of the witch because she didn't see her sitting there when she got on the ride so she hid behind me. There was also haunted music playing as we drove around the field. I really enjoyed the day.
By Rhiannon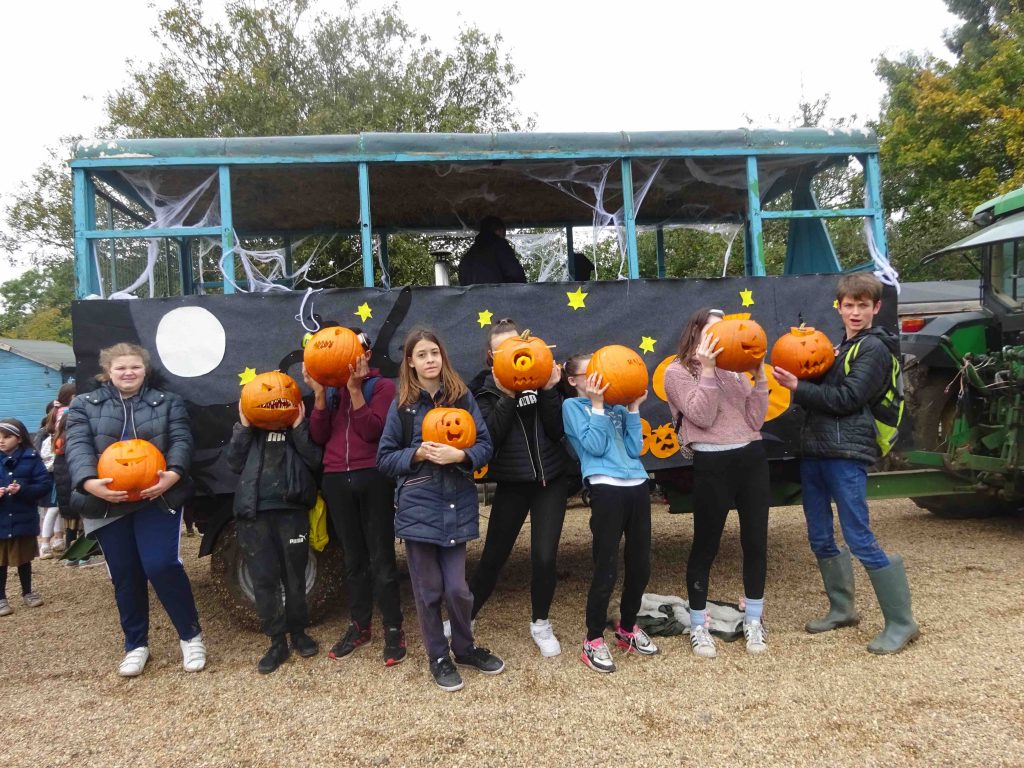 We went into the field to get the pumpkins which were on the ground so that the public could choose which pumpkin they wanted. Afterwards we chose which pumpkin we wanted to carve and take home. I decided to carve a flower shaped head. I scooped all the seeds out of it into the bin. Then I carved big triangle eyes into the pumpkin and then I carved the mouth. It was really hard to carve the pumpkin. When I got home I put it in my conservatory. I really enjoyed going to the farm that day because I took home the pumpkin I had carved.
By Chloe