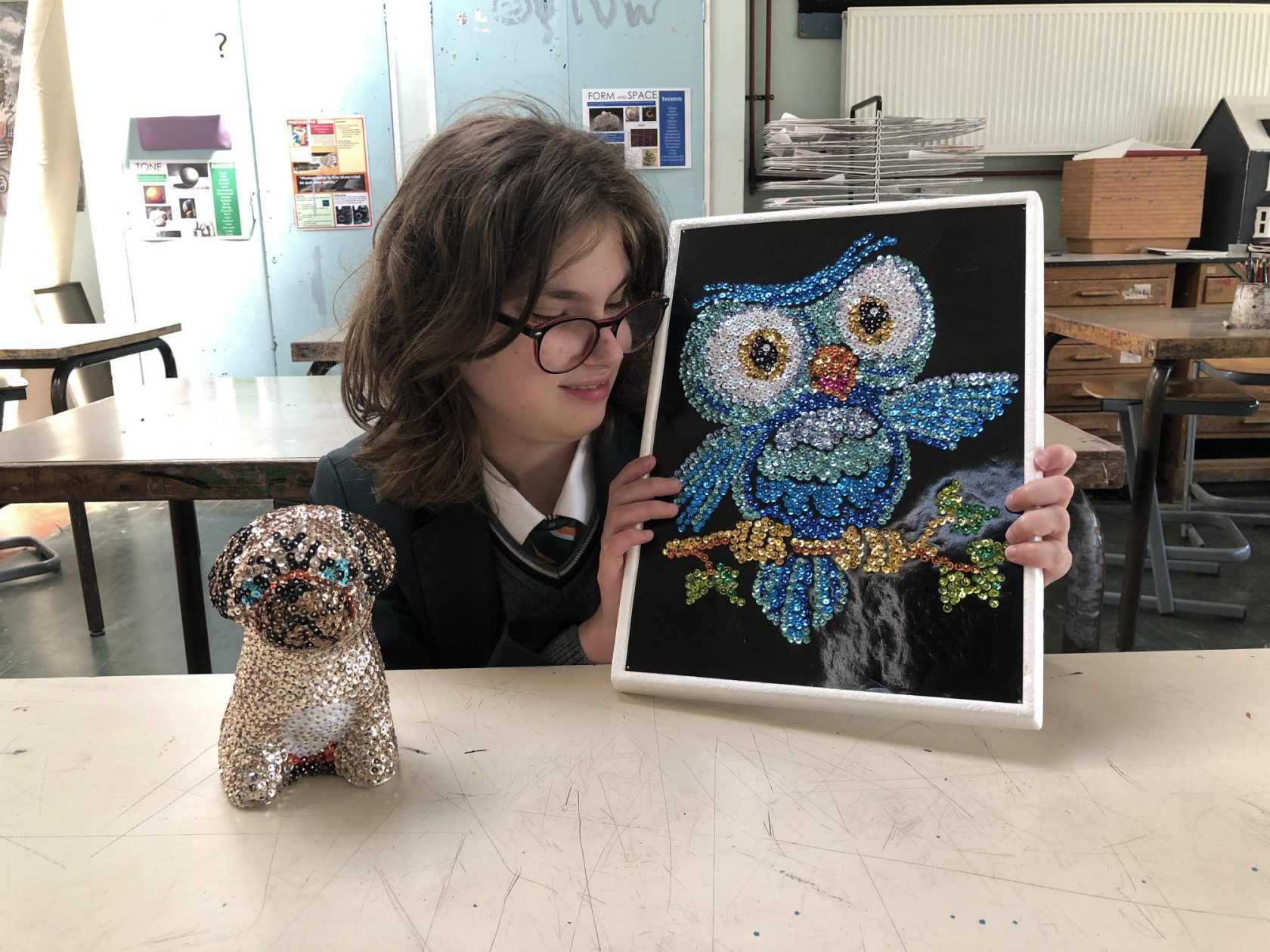 Year 11 Success in Arts Award
---
Year 11 Success in Arts Award
Year 11 Arts Award students have worked so incredibly hard for the past two years. They haven't had the easiest ride with COVID19 disrupting both their year 10 and year 11 studies. Despite all of the unpredictability and the challenges, they've continued to be positive and enthusiastic about their work, even when participating in the home learning.
The year 11 class consists of 5 SEN students, Karl Bateman, George Clarke, Rhianna Jinks, Oliver Jack and Zakir Miah. The great thing about Arts Award is that the students get to choose which art form they'd like to explore whether it be media, fine art, music, drama or dance.
As well as practical work, the students get to do various other things such as experience the arts as an audience member, interview someone with a career in the arts and put their leadership skills to the test by organising their own event.
Inspired by his favourite TV programmes and films, Oliver decided he wanted to learn more about media by creating a stop motion animation. Since year 10, Oliver has worked tirelessly to complete his animation. He even managed to get one of our fabulous learning assistants to help him with the voiceover!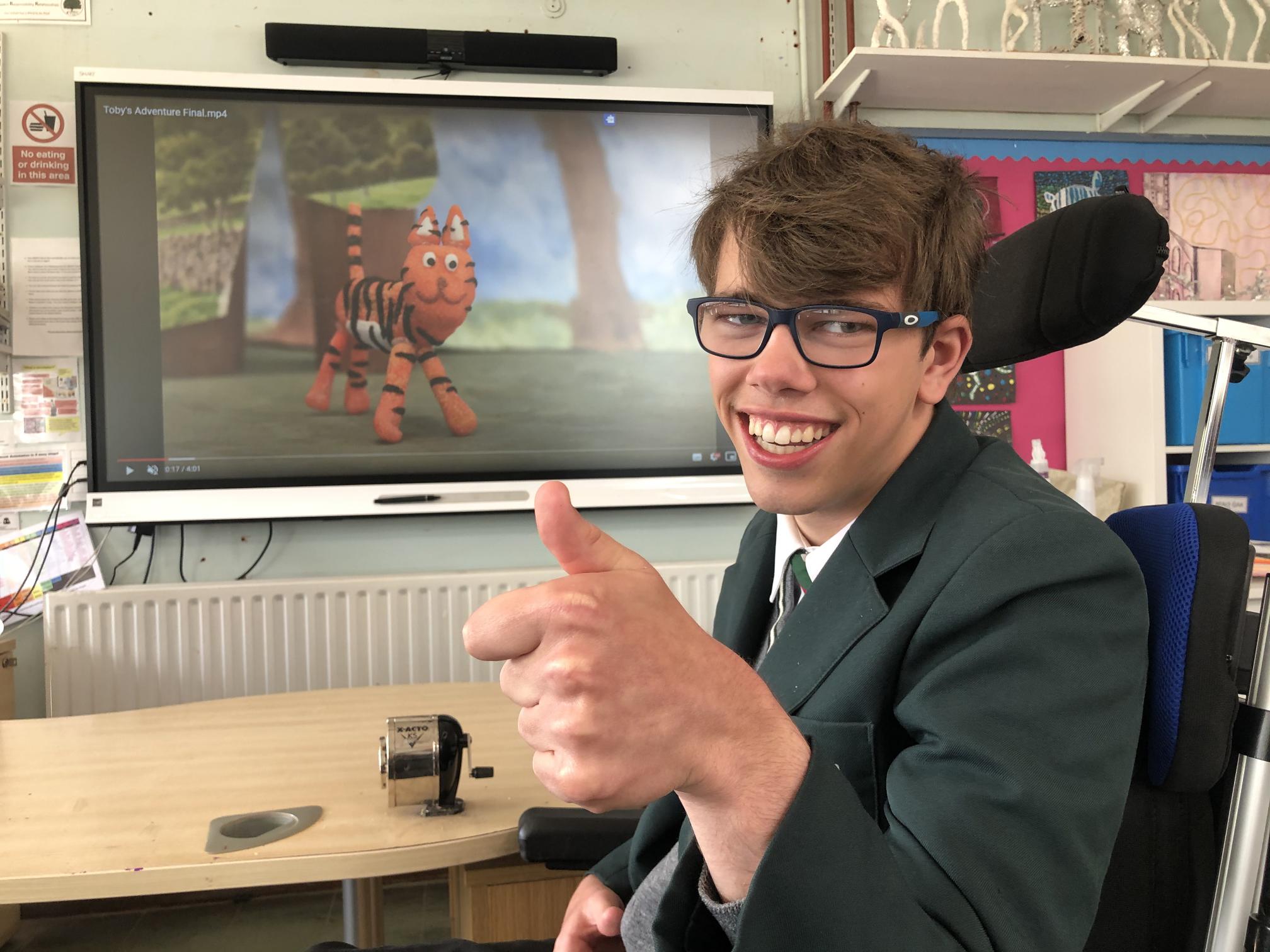 Oliver showcased his animation to the rest of his peers and gathered lots of feedback from them. Karl wrote a great review for his own portfolio work:
"I learned that the style of Oliver's animation is called a stop motion. Even though it was an animation I saw lots of other art forms as well. He made the characters out of clay or playdough which is 3D, he also made the props out of different things which is also 3D work. He made the music and the backgrounds too.
I rate it a 4 out of 5 stars. My favourite character was Toby the Tiger, he was the main character. My favourite bit was when Toby was making new friends. The music was very calm and peaceful and wasn't too loud over the voices. The voices were funny. One voice I did recognise because he is a learning assistant at school. They did a very good job at the voices. The story was nice because it tells you that it is always good to have some friends and to have a nice time with them. They are all different but still became friends anyway.
I would recommend it to lots of people because it is really good. I would say that it would be aimed at primary school children or year 7s. I think they would like it the best because it is like the things they already watch on TV. Now I know how much work it takes to make something like this.You have to do a lot of work to make an animation and Oliver was brave to share it with everyone. It inspired me to do more creative things more confidently."
Rhianna explored some dance at the beginning of the course, but settled on doing some arts and crafts projects. She wanted to improve her fine motor skills and the beautiful sequin art pieces she produced were a great way to do this!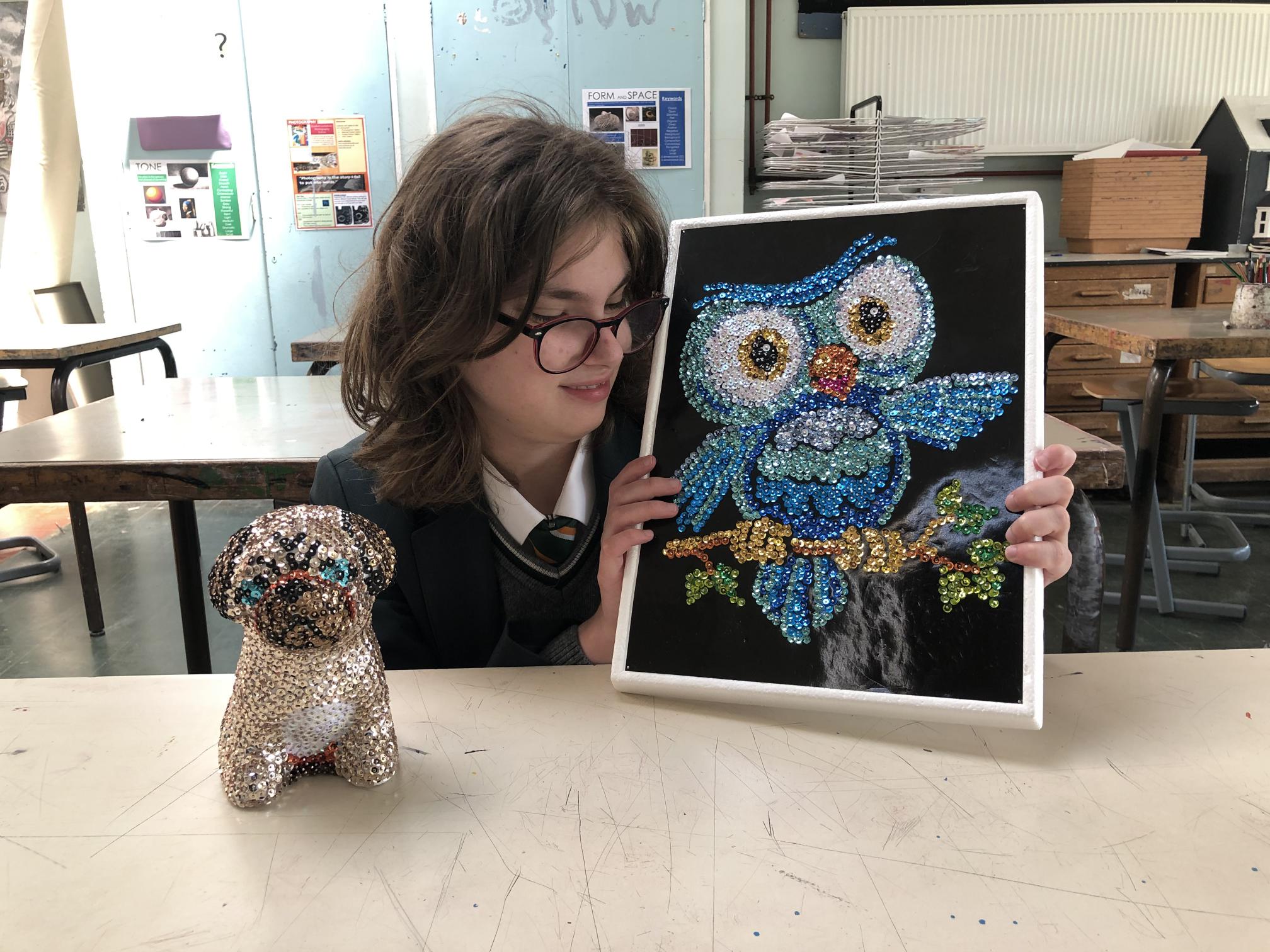 She says 'My Arts Award project was sequin art. I decided to do this because I found it relaxing and it helped with my fine motor skills. I did two 2D pieces and one 3D piece which I found the hardest because it was much more fiddly than doing a flat 2D piece. During my Arts Award course I also created an art event of my choice. I held the event during an art club one afternoon and we watched an episode of 101 Dalmatians on the screen, we talked about the use of animation and music, and also did some colouring in. I had to make invitations and posters for the event and also had to be confident to talk to the group and help them with what they had to do.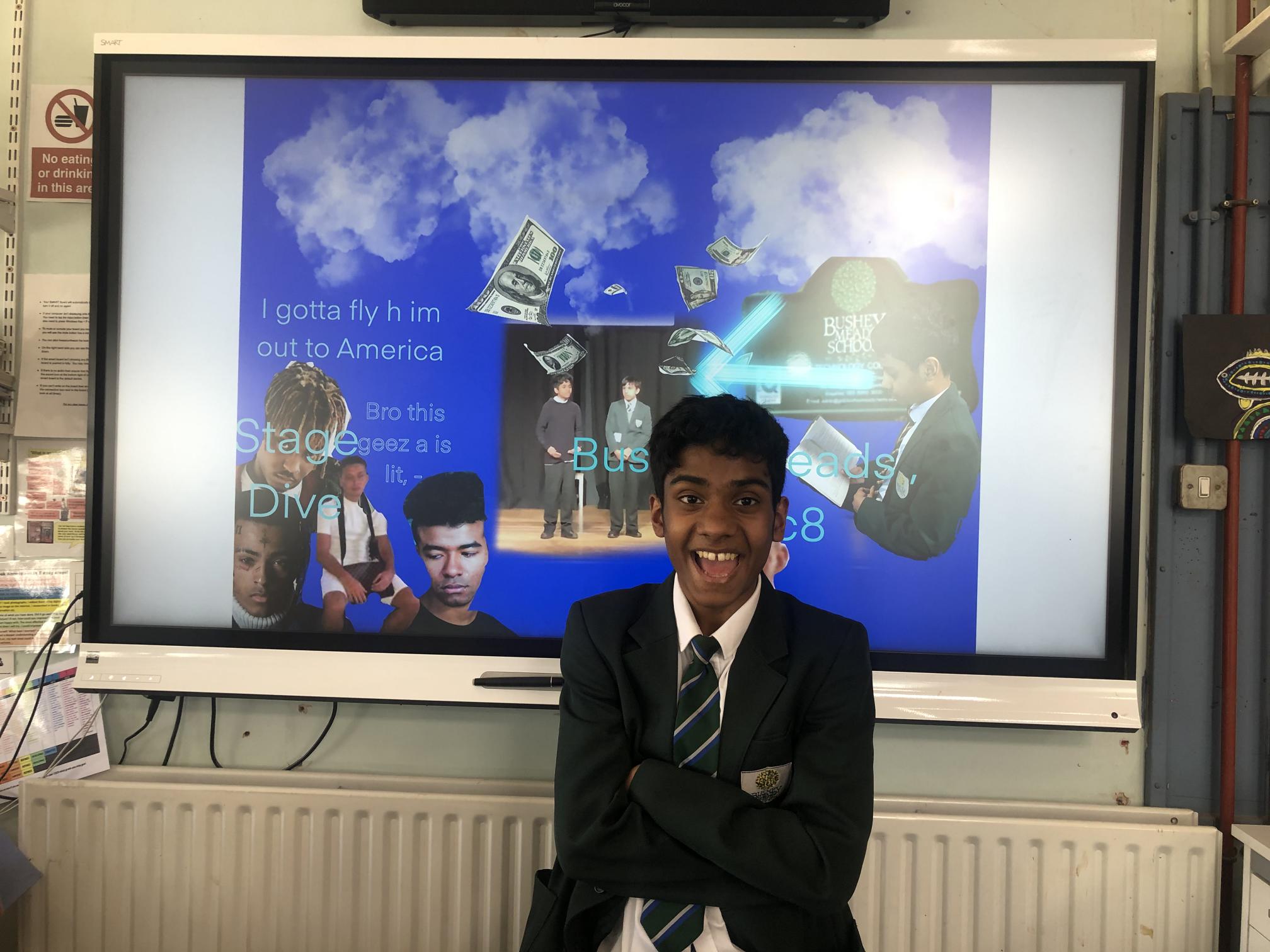 Zakir has studied Arts Award since year 9 and during this time has tried and tested many art forms, from dance to game character design and finally to drama and media! He joined in with a GCSE drama group to practice his acting skills and even performed a Blood Brothers scene to an audience of primary school children.
Zakir says "I am glad I got to do Arts Award because I was able to choose what I wanted to do. I started with dance but because I didn't enjoy that in the end I was able to change easily to do something else. I wanted to have a go at acting and I made a montage video of all my performances. I also got to interview someone who works in the gaming industry called Simon Raynor. It was cool because he used to come to this school. I learned lots from him and he made me feel inspired to work hard and get a good job."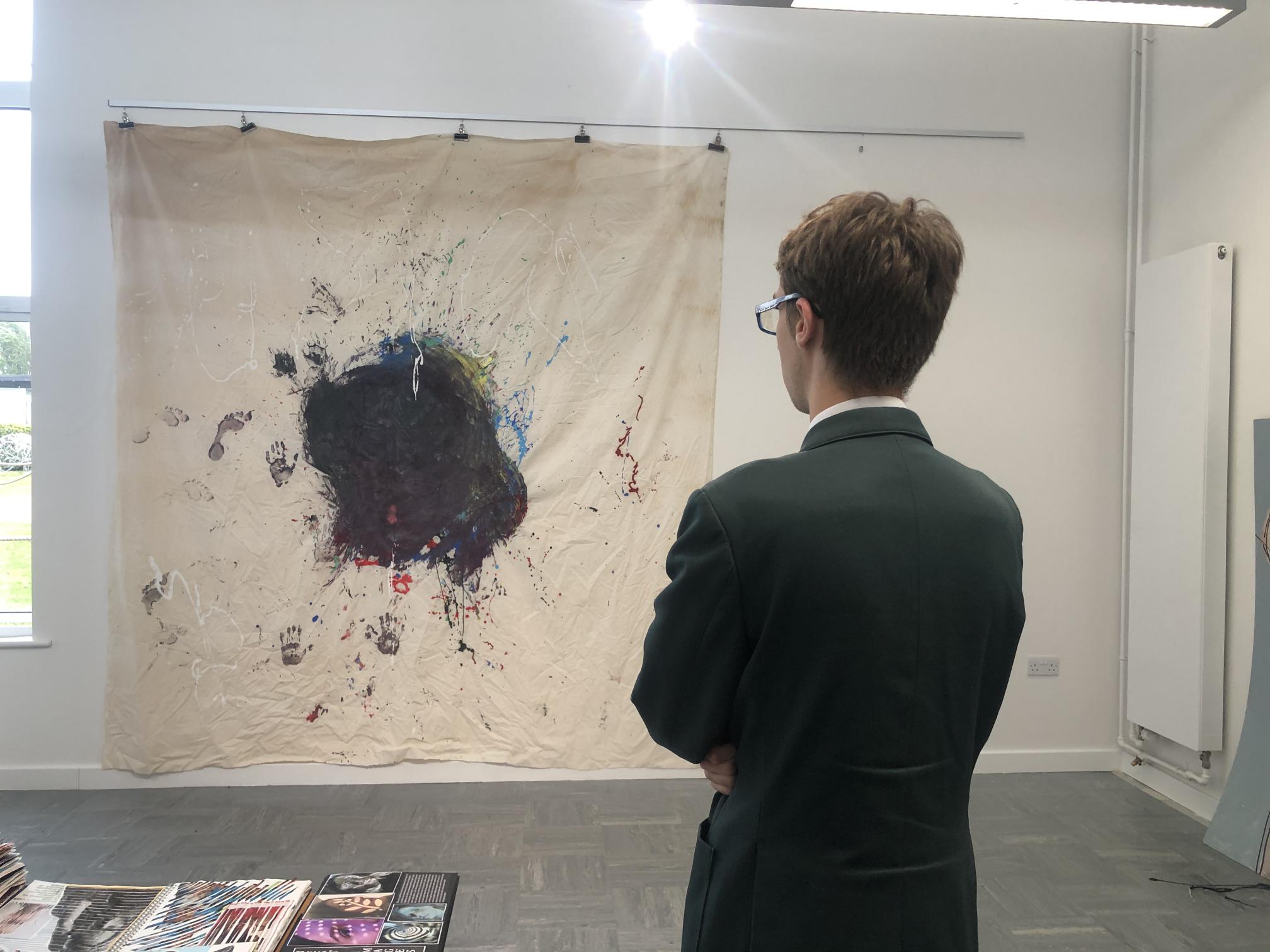 George combined dance and paint together to create a wonderful and emotive piece of art. He says 'My dance is about a boy who loves dancing but gets made fun of for it, he gets really upset and doesn't want to dance anymore. He then realises that those people can't control what he can and can't do and doesn't let them affect his dancing. This idea was taken from my own experiences.'
As well as this, George shared some of his dancing skills with his peers and taught them a few hip-hop moves! It was good to see everyone getting involved, including the learning assistants!

Last but not least, Karl has made a fantastic piece of spray paint art. Inspired by graffiti art he finds in parks and on buildings, Karl wanted to create his own which includes some of his favourite things. He also taught the rest of his arts award group how to use a spray paint can as most of them had never used one before.
Karl says 'I love Arts Award and wish I could do it forever. I got to decide what art I wanted to do and I enjoy graffiti a lot so I've had lots of fun. I also got to interview my old art teacher Mrs Waring to learn about what she likes about art and why she became an art teacher. She is a good teacher so I wanted to know more.'
Thank you so much year 11 for being so wonderful and hard working! I wish you all the best of luck for the future! A huge thanks to Mrs O'Leary, Mr Hammond, Ms Whittingham, Ms Benham and Mrs Roucco and many others who have supported us over the past two years!