Year 9 RE Trip to St. James's Church, Bushey
---
Year 9 RE Trip to St. James's Church,...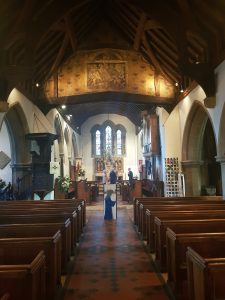 Ms Lucy Jackman and I escorted my Year 9 RE class to St. James's Church, Bushey.  The warmth and learning experience we all received was amazing.  This helped the students with their appreciation of the religion of Christianity. They were able to hear from the volunteers as well as Reverend Poultney their lives as practising Christians, as well as the history of the Church and the different activities, services and festivals which take place there. A truly enriching experience.
Students commented on their experience:
I enjoyed our class visit to the church because it was interactive and interesting as well as teaching us quite a lot about Christianity. I think my favourite part of the morning trip was that we had a chance to ring the church bells which I hadn't done before. I also think the trip was good because we got to meet people that believed in Christianity and this extended our learning.
I really enjoyed the trip to the church. I felt it was very inclusive and interactive and fun! I liked how all our questions were answered as well.
I thought the day was quite amusing, but I also learnt a lot of stuff. The walk up was very calm and laid back and when we got there the vicar introduced himself and the others that were showing us around.
I thought it would be quite boring and they'd be stuffing religion in our face, but instead they showed us both sides to religion and helped us understand why they chose the path that they're in today.
We also got to ring the church bells which was quite difficult but really fun. We got to walk up the church stairs and I felt like I was in Harry Potter. It was a great experience and the people there were lovely.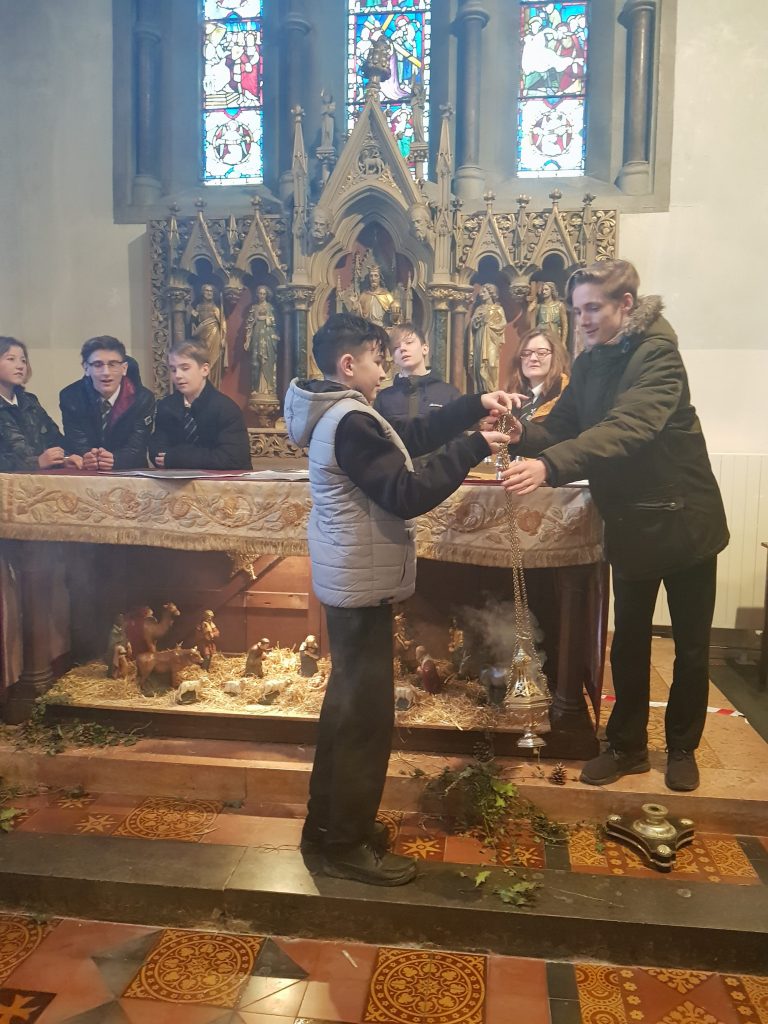 On Wednesday 17th, 9F1's RE class went to Bushey St. James' Church. We had so much fun and learnt a lot about the Christian faith.  We were split into groups and each group went to a different area. We learnt about how Christians worship, about baptism, the importance of the Last Supper for Christians and finally, how to ring the bells in the bell tower.  I had a great time and would love to go again.
It was an enriching, engaging and an interactive day. Being at the church has helped me to further my knowledge of Christianity and develop my philosophical thoughts. Overall I have learnt so much and have had an exhilarating day.
It was a very nice and peaceful experience. I really liked participating in the bell ringing part of our trip. As well as that I really liked just sitting down and talking about baptism.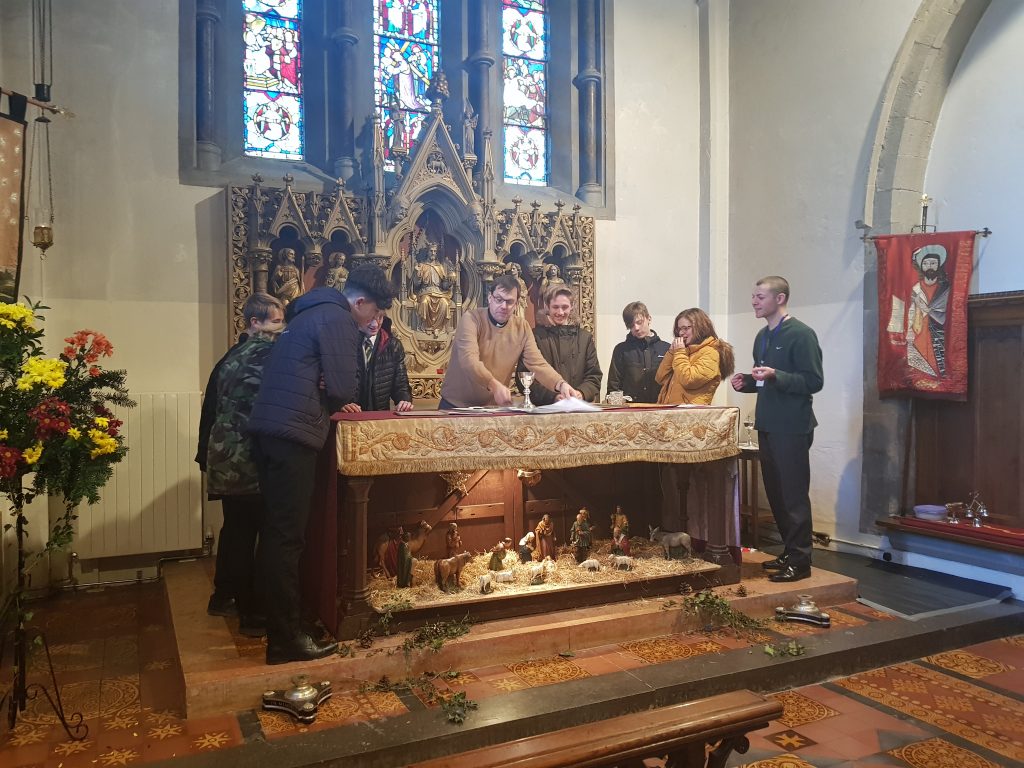 I really enjoyed the trip on Wednesday as it allowed us to view the rituals and style that people of the Christian religion partake in and have a conversation with in-practice Christians. I also enjoyed the bell ringing as the engineering and general idea/usage of the bells was impressive and a cool experience.
The day was good with a lot of information about the church given out and a lot of interactive activities that attract peoples' attention.
I enjoyed the R.E trip. The trip was well set up and the volunteers told us about their experience working there and how they believe they experienced God. My favourite part was ringing the bell. It was difficult as well as exciting because I had never done it before and it was really heavy to ring.
I found the church very interesting and I found out a lot about Christianity and the traditions and rituals Christians perform. I was also able to actually perform actions such as bell ringing which I found a lot of fun and also look into depth inside the parts of the church.
My experience at the church was really good. I learned what people feel like to be a Christian and what's involved with being one. My most favourite part of the day was when we were allowed to ring the bells. The most interesting part of the day was when we learned about baptism and being christened. As there is lots involved.
It was very enlightening to here other doctrines of the Christian faith. The most interesting thing was to hear how the people that we met became Christians. Thank you Miss Walters for a nice day out.
I found the trip to the church very knowledgeable. I enjoyed learning about all the different peoples' experiences and how they all became Christians. I found it interesting to find out how the church operates on certain days. It was an amazing opportunity and we were able to take part in exclusive things such as ringing the church bells and such. I am very grateful that I was given that opportunity.
My favourite part of the trip was the bell ringing and the digestives. I learnt a lot during this trip but some parts were a little boring. This was a special experience and the people there were nice.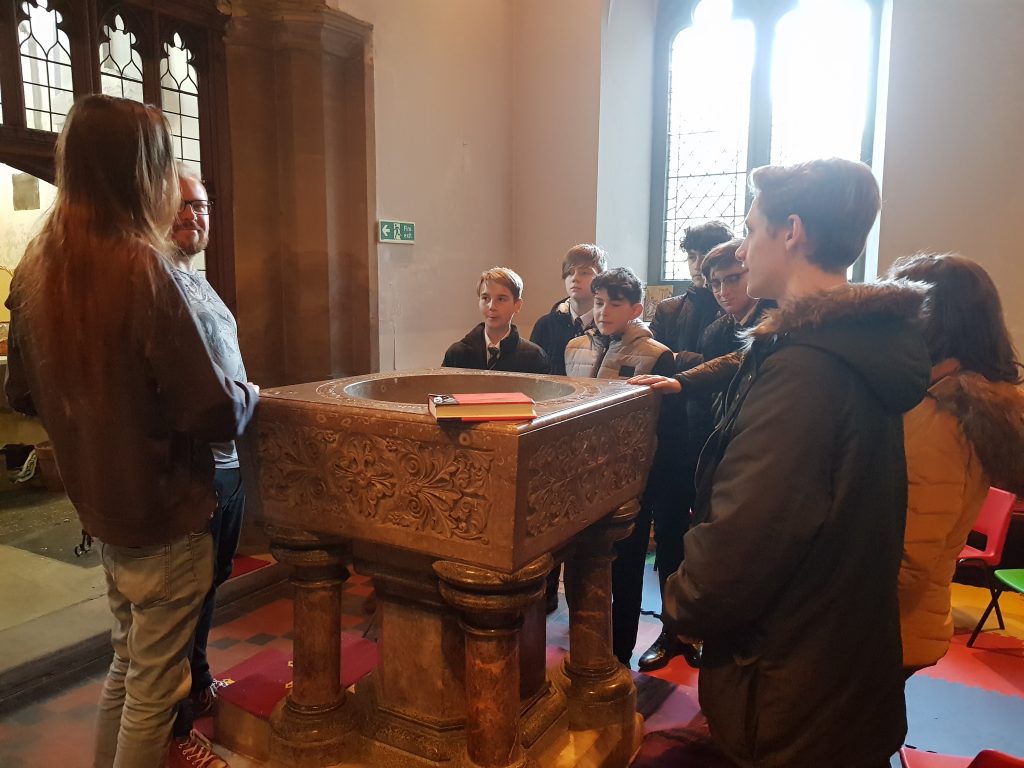 It was actually pretty fun, the best bit probably was the bell ringing- even though I was terrible at it. The people there were very informative and I learnt a few new things.
We learnt about the history of the church, we learnt about baptism and christening and we went to the bell tower and rang the bells. It was a really interesting experience as I got to learn more about Christianity following on from what I learnt from school.
I found the trip to Bushey St James Church very interesting and eye opening. I enjoyed learning about Christianity in a special and holy place. I was given the chance to experience ringing the bells which was great fun and it was really interesting to see how the bells worked.
Yesterday morning, we went to a local church and we experienced and learnt many new things about the Christian faith. It was an educational experience which helped us understand more about Christianity and the history of the religion and their churches.
The day at the church was good because we learnt about why people became Christians and their story and also what happens at religious ceremonies.
On our trip to St James' Church we learned about the meaning behind certain designs and rituals and understood different reasons for becoming Christian. The workers were very kind and answered many of our questions, as well as letting us ring the Church bells. Overall it was a very successful trip.
It was a brilliant experience as I heard some amazing stories of how others became Christians, some of them inspired me. It really changed my view of the religion as a whole and opened up my eyes. There were multiple things to do there and was a fun time overall.
The trip was a new and interesting experience. There were many elements of the trip that aren't very well known and it was exciting to see behind the scenes as well as getting to experience many things that occur in the Church.
The thing I experienced on the trip to St. James' was how it was like to be at the church and work there and also different types of points of views on what it was like to be a Christian. I enjoyed this trip a lot.
The Church was really different to what I expected. Rather than the stuffy, slow trips I'm used to; it was more fun. Especially the parts where we were able to discuss experiences with workers at the church.
The Church we went to was very welcoming and let us all be comfortable in the environment. We learnt about the history of the building, as well as interesting practices that are performed there.
The RE trip to St James' Church completely changed my view on religion. Before the visit I classed myself wrongly as atheist and now I would say I'm agnostic, leaning towards the side of religion, it was really refreshing and enlightening to hear Christianity explained in a different way. I really enjoyed it.