BMS Ski Trip – Falcade 2018
---
BMS Ski Trip – Falcade 2018
With all the anticipation building up for this year's ski trip, there was no surprise to see all of the students arrive at school early ready for our annual ski trip.  With an increased number of students (This year we had 52) it was always going to be a packed bunch of Bushey Meads students on our executive coach.  All students arrived with their passports and EHIC cards in tow.  In no time at all we were all on the coach, luggage loaded and we were away and heading to our first stop which was ChannelPort (This is just before the EuroTunnel).  This year's trip comprised of Year 10's being the majority group of skiers some experienced skiers from Year 12 which is always a bonus.
By the time we arrived at our first stop off you would be amazed to think some of these students had not had breakfast or lunch.  It was also very clear that students were very excited about being on the trip and could not wait to see what skiing experience where going to unfold.  For Year 12 students it was a case of reminiscing about some of the events which they experienced in Year 10 and thinking to themselves how much better this year will be.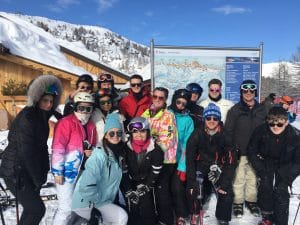 Once back on the coach we headed on the rest of our journey to arrive in Falcade with LOTS of snow and sunshine (minus the traffic around Munich).  The Saturday afternoon comprised of getting used to our hotel and getting our ski gear for the week which was a smooth transition.  It was also the beginning of actually skiing for the first time for some students in terms of getting used to their ski equipment.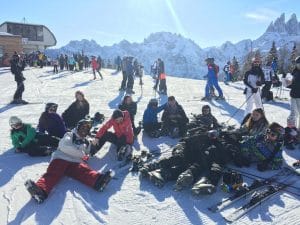 The first couple of days gave the students an insight into how physically demanding skiing is on the body as well as how important it is to have good technique in order to make progress and tackle challenging pistes.  It was really nice to see the Year 12 students showing the Year 10 students how it done i.e. putting ski equipment on, pushing themselves in terms of remembering all of the exercises which they learnt when they were in Year 10.  There were some stand out skiers in Year 10 who clearly were experienced and went into the top groups dominated by Year 12 students such as Nicole Redmond, Anna Finley, Jack Peskin and Alex Dent.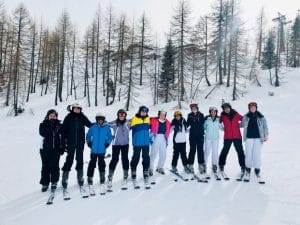 There were also students and teachers (Mr. Cox, Mr. Lyley) in the beginners group who were making a lot of progress and by the time we got to Monday.  They were on a blue slope and making left and right turns with a lot of confidence.  By the time we got to Pizza night on Monday evening it was clear to see that all students had settled into the regime of skiing and accepted the fact that pizza and pasta are part of the everyday lifestyle in Italy when on a mountain.  It was nice to hear students discuss their accomplishments and other runs which they would like to complete before the end of our stay.  It was clear that there were competitive students who wanted to outdo each other in terms of progress which had been made and pistes which had been conquered.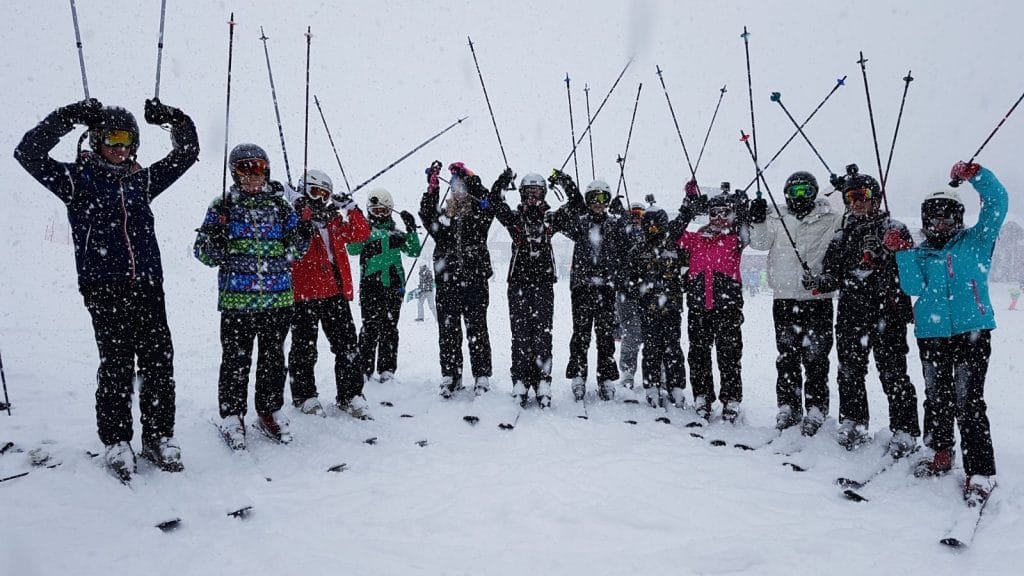 By Wednesday students had experienced all aspect of ski conditions in terms of weather, from blue skies and sunny weather to a complete white out where all students could see was falling snow.  It was so nice to see that students had picked up a few words in Italian such as saying hello and goodbye and sharing words with their instructors as well.  Skiing with some of the groups it was clear to see that relationships had been developed with the ski instructors this could be seen with the amount of big smiles on the faces of students. They were tackling more challenging pistes and starting to realize why it is important to develop their basic ski skills before taking on a pistes which are more difficult (Shout out to Rubina's group and the domino effect!).
Tubbing provided to be a highlight of the week as students got the opportunity to release some of the tensions of skiing by going down a slope on a plastic doughnut tube.  All that could be heard was the screams of joy and the groans of having to walk back up the hill once they had had their go.  We even managed to create a chain of students going down in one go which proved to be really popular.  This was washed downwith a lovely warm cup of hot chocolate.  With all that energy used up the coach was very quiet coming back to the hotel.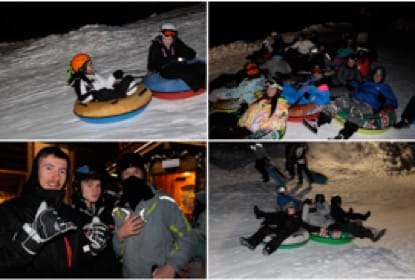 The last 2 days flew by and before we knew it there were Bushey Meads students who were taking in their last moments in Falcade before they had to head home.  Kieran Woodhouse got very emotional towards the end of the final day reminiscing about all the fun he has had over the week.  It was just nice to see a student actually take that moment in and appreciate the fact he had truly had an amazing week.  Right at the end of the week there we a lot of goodbyes, hugs and pictures taken with their instructor to round off a truly memorable week
I personally would like to thanks my amazing ski team for lots of different reasons (Mr. Malik, Ms. Skevington, Mr. Cox, Mr. Lyley, Mrs Bowyer and Ms Lindau).  Together they made this year's trip seamless and smooth from leaving school to arriving at Falcade and stepping up with issues which had to be resolved, and one to remember.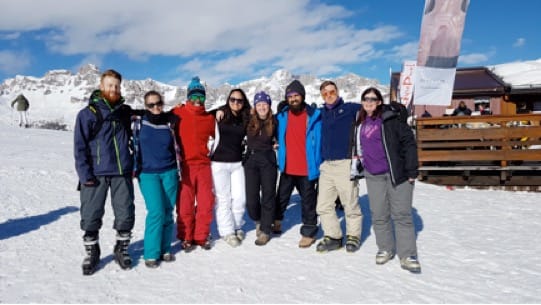 A massive shout out goes to Mr. Malik and going to extra mile with some of the students especially in Year 10 on the trip.  He never really stopped doing his job in terms of pastoral care for the students and it should be noted.  I can say without fail there will be lots of memories and laughter which will never be forgotten between the staff ski team and BMS students.  The picture below gives an indications of how nice the weather on the last day and how much the students wanted to stay a bit longer.

Watch this space for Falcade 2019